According to the Canadian Paediatric Society, colicky babies have long periods of inconsolable crying and hard-to-calm behaviour, but are otherwise healthy. As a parent, coping with colic can be especially distressing. You feel helpless. You've tried everything to soothe your baby, including cuddling, massaging and herbs, but nothing seems to work. The good news is that you're not alone; you'll find how to soothe your colicky baby here.
What Causes Colic?
Why babies have colic is not fully understood, but studies have shown that babies with colic have lower counts of good bacteria as well as increased concentrations of harmful bacteria in their digestive tracts.
This can cause all sorts of digestive problems, including colic.
The Canadian Paediatric Society has defined colic as a self-resolving condition after 6 months of life, but in the meantime there's a solution that has helped many families suffering with colic worldwide and in Canada.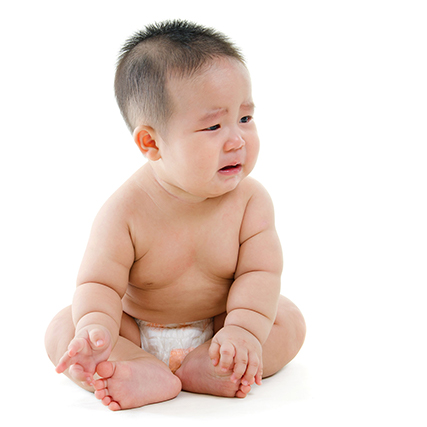 BioGaia with ProTectis treats colic right from the start
In a recent survey among Canadian parents, BioGaia was voted as the probiotic with the highest rating of satisfaction for soothing their colicky babies.
74% of colicky babies & exhausted parents found relief with BioGaia ProTectis Drops after just 1 week of daily supplementation of 5 drops of BioGaia ProTectis Drops.
Significantly more effective vs. simethicone for colic relief:
95% of infants reduced their crying time with BioGaia ProTectis vs. 7% with simethicone
BioGaia ProTectis Drops is supported by the strongest clinical evidence available in infant colic